As many of you know I have been collecting photos of horses with 'all four feet off the ground.' Which, by the
way, has been a really fun project (thanks for sending them all).
I noticed under this photo the following comment: "That looks too high and a little fake. What would you have to do to make a horse jump like that?"
The comment got me thinking.
What makes horses jump higher: joy or fear? In this discussion I am talking about horses that are turned loose or maybe being lead…I am talking about horses spontaneously leaping.
I have seen more horses spring straight up in the air out of joy rather than out of fear.
In a fear situation more horses tend to crouch down or explode in a direction; more of a flight response. Jumping straight up is just silly. It is not useful for fighting either. Knowing this may be why these photos make me laugh. They do look a bit like horse balloons!
Take a look at the series of photos I took of a particularly fresh young stallion that I turned out one day. The jump makes more sense when you see the rest of the series.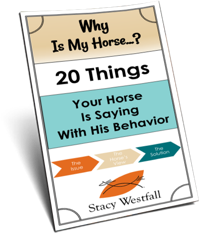 FREE PDF DOWNLOAD
WHY IS MY HORSE...?
No one taught you the skills you need to work through these things.
Riders often encounter self-doubt, fear, anxiety, frustration, and other challenging emotions at the barn. The emotions coursing through your body can add clarity, or can make your cues indistinguishable for your horse.
Learning these skills and begin communicating clearly with your horse.
Click here to learn more.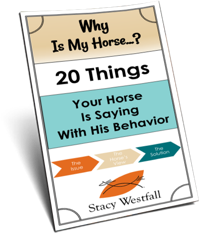 Free PDF Download "Why is my horse...20 things your horse is saying with his behavior"
PDF will be delivered to the email address you enter as will weekly tips from Stacy. Totally free. Unsubscribe anytime.