Can someone out there help organize this topic? When I read the comments it is challenging to get past the defensiveness. What I am looking for is NOT the reasons why you should or shouldn't support slaughter. I am interested in people submitting OTHER IDEAS.
We all seem to agree that there is a problem with overpopulation. That is a start.
I suggested euthanasia as an alternative. It was very interesting to hear the feedback of the costs involved in the vet fee as well as the burial. If you know what it costs in your area please leave a comment telling those numbers below.
Slaughter seems to have been discussed as an alternative because of cost.
Please propose ideas, or even better provide links, to places that have offered viable alternatives to slaughter. If you are proposing ideas please include at least a rough idea of where the money will come from as this seems to be the strongest argument for slaughter as of now.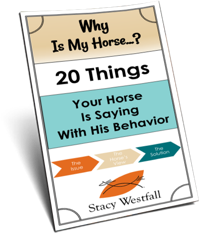 FREE PDF DOWNLOAD
WHY IS MY HORSE...?
No one taught you the skills you need to work through these things.
Riders often encounter self-doubt, fear, anxiety, frustration, and other challenging emotions at the barn. The emotions coursing through your body can add clarity, or can make your cues indistinguishable for your horse.
Learning these skills and begin communicating clearly with your horse.
Click here to learn more.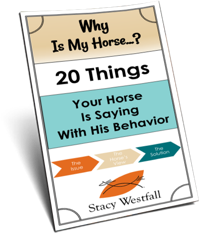 Free PDF Download "Why is my horse...20 things your horse is saying with his behavior"
PDF will be delivered to the email address you enter as will weekly tips from Stacy. Totally free. Unsubscribe anytime.