A girl stood sobbing in front of me at the last horse expo I went to.  Her hands shook as she moved to wipe away the tears. Unable to speak at moments because of the sobs she apologized, smiled and cried. And yet I understood.
This wasn't an isolated incident. Three times at this expo, this happened, with three different girls, teens to early twenties. And it has happened before. 
It scared me in the beginning. Why is it happening? How should I handle it? What should I do? 
It doesn't scare me anymore. I know the answer. 
Once I could see past my fears; can I help these people? I was able to see why they were crying. Able to understand my role. HOPE. 
Hope was the reason they stood crying. 
It was nothing I was doing, standing there in the booth. 
It wasn't my teaching, my job, my riding… 
I am not the answer. But I am a seed.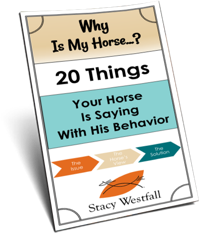 FREE PDF DOWNLOAD
WHY IS MY HORSE...?
No one taught you the skills you need to work through these things.
Riders often encounter self-doubt, fear, anxiety, frustration, and other challenging emotions at the barn. The emotions coursing through your body can add clarity, or can make your cues indistinguishable for your horse.
Learning these skills and begin communicating clearly with your horse.
Click here to learn more.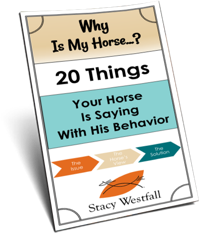 Free PDF Download "Why is my horse...20 things your horse is saying with his behavior"
PDF will be delivered to the email address you enter as will weekly tips from Stacy. Totally free. Unsubscribe anytime.