One of my sponsors Tekonsha, the leader in electronic trailer brake controllers, put a wrap on our horse trailer. There are times that it is fun to have a wrap on the trailer and there are times it is a bit awkward.
The only time it really isn't fun is when I'm doing something silly…like wearing sweatpants and cowboy boots into a gas station when someone recognizes me…lol.
…otherwise it can be fun. It is a great conversation starter while fueling up or if people want to come over to visit the horses. Even when people don't have a clue who we are they will often ask if they can pet the horses or take pictures of them. It is always fun to see people who are in awe of these big animals but don't have as much access to them. Watching a child squeal in delight at touching a soft  horse nose is always fun.
So if you see us driving down the road, like this man did, stop by and say hi. Take a photo or be prepared…I just might ask YOU to be in a photo or video.
Tekonsha thought it would be interesting to do some videos called "Stops with Stacy" where I show you even more about the interesting things that go on in our travels. Pretty neat idea, right?
Watch for the first 'Stops with Stacy' in my blog on Monday. If you have time leave a comment with ideas on what you would like to see featured in a 'Stops with Stacy' episode.
Most importantly, stop by and say 'hi'…and be prepared to be on camera!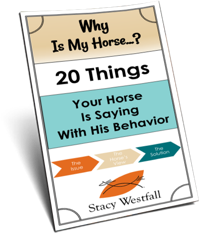 FREE PDF DOWNLOAD
WHY IS MY HORSE...?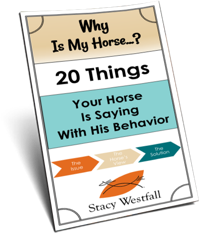 Free PDF Download "Why is my horse...20 things your horse is saying with his behavior"
PDF will be delivered to the email address you enter as will weekly tips from Stacy. Totally free. Unsubscribe anytime.