I do occasionally get asked if I have worked with mules. I have not…not that I have anything against them. I have heard that they are smart…but this video really makes that evident!
This is one of those videos that shows a true partnership between an animal and human.
It would be an understatement to say that this guy knows his job!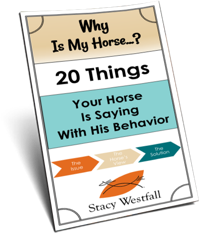 FREE PDF DOWNLOAD
WHY IS MY HORSE...?
Free PDF Download "Where is my horse...?"
20 things your horse is saying with his behavior.