Just incase you don't get our newsletter I wanted to let everyone know about the sales we are having over this weekend, Thanksgiving day (starting at midnight tonight) through Monday.
 All DVD's are 50% off-the lowest price of the year.
And there are more deals, check out the Shopping page of Westfall Horsemanship for more info.
 There are 70 Roxy models left and if you want one I will be signing them on Monday and shipping them out. Just tell us the name you would like on it and it can be personalized.
On a more Thanksgiving based note…what is your favorite food today? Being from Maine, and longing for home, I asked my mom to mail me some 'Lobst-ah'. I am happy to say it arrived today-just in time for tomorrow's celebration! Lobster you say….acutally there is a greater chance that the Pilgrims ate Lobster rather than sweet potato or pumpkin pie!
What would the Pilgrims have been saying?
My thought is: Psalm 107:1
"Give thanks to the LORD, for he is good; his love endures forever."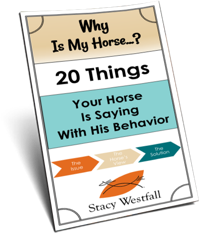 FREE PDF DOWNLOAD
WHY IS MY HORSE...?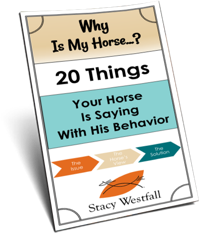 Free PDF Download "Why is my horse...20 things your horse is saying with his behavior"
PDF will be delivered to the email address you enter as will weekly tips from Stacy. Totally free. Unsubscribe anytime.