Episode 190: Doing less of a 'bad thing' won't work.
Do you have a thought, that you are not aware of, that is holding you back?
While this might seem like an impossible question to answer- it's not.
It is however a higher level idea that will require you to do some work.
In this podcast, I share a story to illustrate how a hidden thought showed up for one young lady and how we uncovered it. Then I explain how this could be showing up in your work with your horse and the signs to look for. Finally, I share a very specific exercise you can do the next time you are at the barn to help uncover your hidden thoughts.
SUBSCRIBE TO THE PODCAST HERE: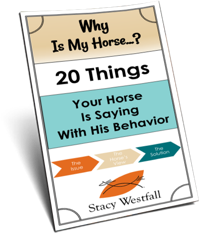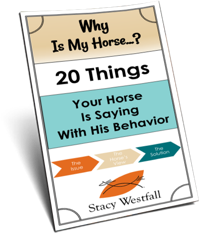 Free PDF Download "Why is my horse...20 things your horse is saying with his behavior"
PDF will be delivered to the email address you enter as will weekly tips from Stacy. Totally free. Unsubscribe anytime.