Episode 181- Three reasons it can be challenging to sit a horses lope
A listener asks how she can sit the lope or canter without popping out of the saddle. She says, "I seem to pop out of the saddle quite a bit…Some people ride so quiet in a saddle, others seem to come up out of the saddle as their horse moves. I can't seem to sit to him as much as I try."
In answering the question I discuss: how the horses build affects the rider, how the horses training level impacts their ability to 'lift' or carry a rider…and how if this is lacking it makes the horse difficult to ride smoothly, the stages where it is more approprate to sit lightly vs deeply…and several ways you can improve your seat.
⬇️FULL SHOW NOTES
CLICK FULL SHOW NOTES
Coming soon
Links mentioned in podcast:
Do you want to take the concepts that you are learning on the podcast to a deeper level? Come join me: Click here to learn more.
SUBSCRIBE TO THE PODCAST HERE: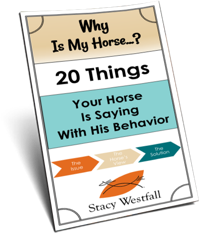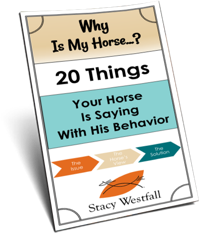 Free PDF Download "Why is my horse...20 things your horse is saying with his behavior"
PDF will be delivered to the email address you enter as will weekly tips from Stacy. Totally free. Unsubscribe anytime.