Episode 129: Physical and mental comfort zones for horses
In this episode I'm answering two questions that illustrate the dance between the horses body and the horses mind. The goal for us humans is to learn to read the body…to see what the horses is giving us for feedback. The challenge is that as we train our horses we are often working to increase their comfort zone.
I don't know about you…but when I stretch my own comfort zone…it is UNCOMFORTABLE.
How can we tell if the horse has the discomfort of stretching or the discomfort that points towards a problem? I explain this in todays podcast!
Links mentioned in podcast:
Stacy's Video Diary: Jac…dentist
https://youtu.be/sM2SL5C_XsA
SUBSCRIBE TO THE PODCAST HERE: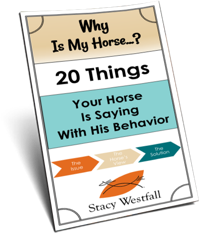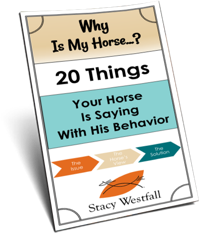 Free PDF Download "Why is my horse...20 things your horse is saying with his behavior"
PDF will be delivered to the email address you enter as will weekly tips from Stacy. Totally free. Unsubscribe anytime.