Episode 126-Mental games for injured horses, clicker training Q&A
Today I'm answering two questions. The first is about an injured horse that is hand walking…his owner would like suggestions about maintaining other routines through groundwork.
The other question is about trick training…clicker training, loading the clicker, using the clicker when riding…and what is a trick anyway?
Links mentioned in podcast:
Jac…testing me: https://youtu.be/hYKM0IsHvp8
Jac asking me questions: https://youtu.be/3TXADWHo5SU
SUBSCRIBE TO THE PODCAST HERE: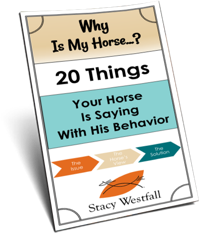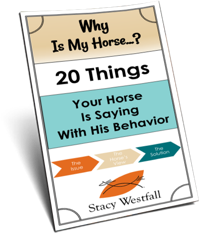 Free PDF Download "Why is my horse...20 things your horse is saying with his behavior"
PDF will be delivered to the email address you enter as will weekly tips from Stacy. Totally free. Unsubscribe anytime.