It's cold out…and I notice that I'm reading more.
Yes, I think there is a direct correlation here. I might as well take advantage of it because I know when the weather gets nice I'll probably be hitting the trails instead of hitting the books!
I've recently been re-reading Dressage Masters: Techniques And Philosophies Of Four Legendary Trainers by David Collins.
When I first order the Kindle version I was prepared to be confused. Instead I fell in love!
There is something about the interview style and the same question being asked of multiple trainers that really worked for me.
What age should a horse be backed? (western translation: mounted)
What mistakes do you often observe in the training of young horses?
What should a three-year-old horse know at the end of the first year of training?
When do you begin to train lateral movements?
I think the reason I enjoyed the book so much is because the author AND the trainers did for the reader what we should all aim to do for the horses. They went back to the basics and made things easy to understand.
I just started reading Dressage Principals based on Biomechanics by Dr. Thomas Ritter. I suspect that if it was a physical book and not a Kindle version it would be HUGE! My kindle says 4,594 pages…
Have you read any good horse books lately?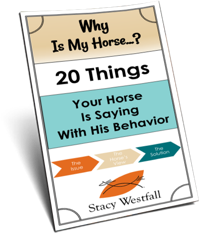 FREE PDF DOWNLOAD
WHY IS MY HORSE...?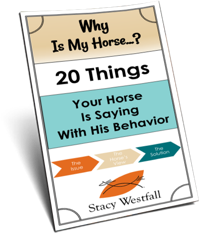 Free PDF Download "Why is my horse...20 things your horse is saying with his behavior"
PDF will be delivered to the email address you enter as will weekly tips from Stacy. Totally free. Unsubscribe anytime.