When I attended college and majored in Equestrian Studies one of my 'test' was the ability to mount up without a girth. The instructor didn't just loosen the girth – she completely removed it. The whole class got a chance to try with the same patience horse. Thankfully the horse was around 15 hands and had a nice set of whithers…but the point was also made.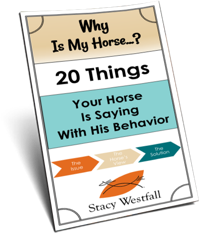 FREE PDF DOWNLOAD
WHY IS MY HORSE...?
Free PDF Download "Where is my horse...?"
20 things your horse is saying with his behavior.