"Hi Stacy! I have a overo paint with a really white face and last summer he got burnt pretty bad. Do you know if sunblock is ok to put on a horse? I put a fly mask but that only covers half his face. What would you recommend?"-Amy S.
He is very cute and I can see how that nose could be at risk. Years ago I had a horse in training that had a history of burning his nose. The vet recommend sunblock. I can't remember what brand we used because the owner brought some with him. They basically said that if it was safe for kids it was safe for horses.
 *
I bet there are many other people out there who have horses who have faced this same challenge. If you have ever dealt with this before please leave a comment telling us how you prevented burns. Have you used sunblock on your horse? What type?
 *
Is there anything else you would recommend?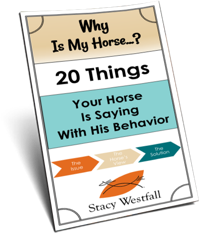 FREE PDF DOWNLOAD
WHY IS MY HORSE...?
No one taught you the skills you need to work through these things.
Riders often encounter self-doubt, fear, anxiety, frustration, and other challenging emotions at the barn. The emotions coursing through your body can add clarity, or can make your cues indistinguishable for your horse.
Learning these skills and begin communicating clearly with your horse.
Click here to learn more.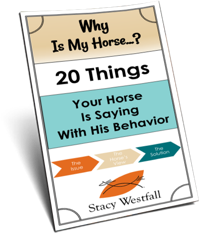 Free PDF Download "Why is my horse...20 things your horse is saying with his behavior"
PDF will be delivered to the email address you enter as will weekly tips from Stacy. Totally free. Unsubscribe anytime.