"Do you have any tips to keeping your balance in the saddle? I was hurt and couldn't ride for several months and now that I am starting to ride again I've noticed that I have been having a really hard time keeping my stirrups, and I believe this is a balance issue. My injuries were a series of concussions so my balance is probably pretty off to begin with, but is there anything obvious I can do to help me keep my seat better?
Thank you so much! I'm a huge fan!!! Watching one of your DVDs right now:)"

Olivia
First, I would like to say that I'm glad you have recovered enough to ride again. I have never had a concussion before but I did hit my head hard enough to earn an MRI. Although the scan ruled out a concussion, my balance was affected for for several weeks. The doctors may have cleared you for riding but you may want to ask them how long it takes for full healing. My first bit of advice is to allow yourself time.
When someone rides with me and their feet keep slipping out of the stirrups my advice seems a bit odd; practice dropping your stirrups.
Set the goal of 'dropping' your stirrups ten times per ride. 'Dropping' your stirrups means removing your feet from the stirrups on purpose. The focus here isn't on how long you can ride without your stirrups, the focus is on practicing picking them up again.
Dropping one stirrup at a time is a good place to start. Once you can drop your right stirrup, put your foot back in and then drop the left stirrup comfortably at a walk then you can move up to the trot. Other goals can include practicing this exercise over ground poles, at a lope or drop both stirrups at the same time when you are comfortable.
For general work on balance I also encourage people to play games. One of my favorite classes as a kid was 'Egg & Spoon' where each rider was given a plastic spoon and an egg with the challenge of seeing how long they could balance it while performing all gaits. We even had a jump off over jumps one time! Although it is fun the class actually encourages riders to have steady hands and great balance…all while having fun.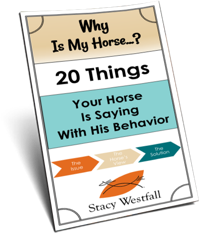 FREE PDF DOWNLOAD
WHY IS MY HORSE...?
No one taught you the skills you need to work through these things.
Riders often encounter self-doubt, fear, anxiety, frustration, and other challenging emotions at the barn. The emotions coursing through your body can add clarity, or can make your cues indistinguishable for your horse.
Learning these skills and begin communicating clearly with your horse.
Click here to learn more.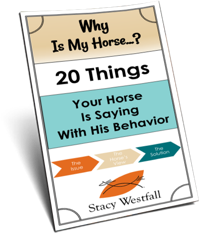 Free PDF Download "Why is my horse...20 things your horse is saying with his behavior"
PDF will be delivered to the email address you enter as will weekly tips from Stacy. Totally free. Unsubscribe anytime.