"So…. about the sliders….. Do they come in different sizes?? …. cuz you said Jac was was getting "baby sliders" on in episode 26….aren't they regular shoes hammered smoothly?? ……so my question is.. do the sliding shoes come in small… medium and large??? ..lol…. are there different thicknesses??-Lesia L."
The difference I was referencing is in the width mostly. The wider the shoe…the more surface area it covers. The more of the foot that is covered in a smooth shoe, the easier it is to slide.
They make a shoe that is 3/4 inch, flat and smooth that some people would consider a small slider. When any of the sliders are put on, the nail heads get filed off. Sometimes we use the 3/4 inch but most of the time we start with 1 inch wide. The last time I used 3/4 inch was when I was mounted shooting with Popcorn because he had been trained to slide and although I wasn't trying to slide, I didn't want him to stick.
The 1 inch wide shoes are the most common size we start with. They are still smooth with nail heads filed off. When they know what they are doing we can go to 1 1/4 inch. It also matters how big or small their hoof is. If the hoof is very small than a 1 inch shoe is going to cover more of the surface area…making them more 'slippery' for that small hoofed horse than a 1 inch wide on a huge hoof.
So why don't we just use wider and wider sliders? Why not cover the whole bottom of the hoof?
Interesting thought. I actually have seen a photo of a 'slider' that was solid across the whole hoof, but I wasn't tempted to try it.
The other maneuver that the slider will affect is when you are running large fast circles. If the hind shoes are too slippery the horse will be more prone to 'slipping' out of lead in the hind end, which is penalized by the judges. So ultimately too much of a good thing, becomes a bad thing.
In this video Jac still has one in sliders on, he has just gotten better at sliding!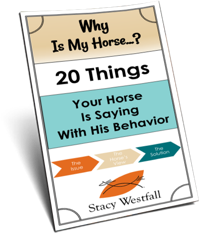 FREE PDF DOWNLOAD
WHY IS MY HORSE...?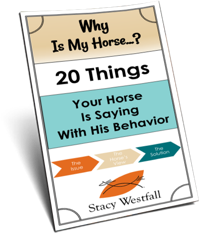 Free PDF Download "Why is my horse...20 things your horse is saying with his behavior"
PDF will be delivered to the email address you enter as will weekly tips from Stacy. Totally free. Unsubscribe anytime.