I should be writing this post from Lexington, Kentucky…but I am not.
I should be at the Kentucky Horse Park preparing to show Vaquero in the freestyle reining class at the Rolex…but I am not.
I have mixed emotions about not being there. I was really looking forward to showing him. I had prepared him for it by taking him to the Dixie Nationals in February and designed that routine to 'put money in the bank' for the Rolex.
Then I used the demos at the Equine Affaire in Ohio for further preparation. He rode great just this last Thursday and Friday.
The short story is that on Sunday night when he came in from being turned out with three other pasture-mates he wasn't right. He had the appearance of being slightly drunk, complete with being slightly uncoordinated and easily off balance.
He appeared to have the symptoms of EPM although it was too sudden (I hope) for that which seemed to point towards some type of injury. But he had no marks; no mud on his blankets to show that he had slipped or been kicked or reared and gone over backward…or any clues.
We have been treating him and he has been improving although he is still not quite right. His head tilt to the left is still there although he has lost the slightly drunk look.
I know that skipping the show was the right decision to make. I just wish knowing it was the right decision would take away the disappointed feeling, but apparently it is possible, and maybe even probable that I can and will experience both.
At this point I just want my cute pony to feel better!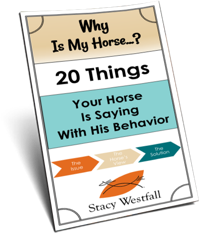 FREE PDF DOWNLOAD
WHY IS MY HORSE...?
No one taught you the skills you need to work through these things.
Riders often encounter self-doubt, fear, anxiety, frustration, and other challenging emotions at the barn. The emotions coursing through your body can add clarity, or can make your cues indistinguishable for your horse.
Learning these skills and begin communicating clearly with your horse.
Click here to learn more.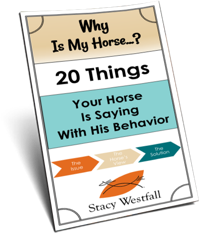 Free PDF Download "Why is my horse...20 things your horse is saying with his behavior"
PDF will be delivered to the email address you enter as will weekly tips from Stacy. Totally free. Unsubscribe anytime.