Dear Mom,
A new guy moved in today. His name is Jac.
It is sooooo embarrassing! You can totally tell that it is his first time at a horse show. He is all excited and annoying at the same time. I'm glad I wasn't that immature at my first show….
Someone had to put him in his place.
After that I decided that I should be his teacher. Can you believe he doesn't know how to play 'can-I-bite-your-lips-while-you-try-to-bite-my-tongue'!!!
I will do my best to teach him. I feel it is my duty as his Uncle.
Your Loyal Pony,
Sir Louie
*        *        *
Wondering who Louie is? Watch the video to see: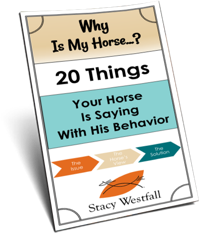 FREE PDF DOWNLOAD
WHY IS MY HORSE...?
No one taught you the skills you need to work through these things.
Riders often encounter self-doubt, fear, anxiety, frustration, and other challenging emotions at the barn. The emotions coursing through your body can add clarity, or can make your cues indistinguishable for your horse.
Learning these skills and begin communicating clearly with your horse.
Click here to learn more.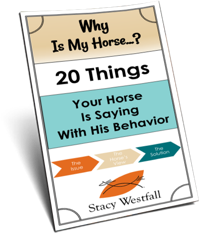 Free PDF Download "Why is my horse...20 things your horse is saying with his behavior"
PDF will be delivered to the email address you enter as will weekly tips from Stacy. Totally free. Unsubscribe anytime.