Dear Mom,
I missed you today….. I hope it wasn't the thing about the dogs. I'm really OK with being ridden instead of being driven around on a machine.
Newt's person took me for a walk. A giant shiny bird flew over and she said you were in it. Birds don't eat people though…they like my grain.
She fed me an apple but I still miss you 🙁
Your Lonely Pony,
Louie
*         *          *
Wondering who Louie is? Watch the interview: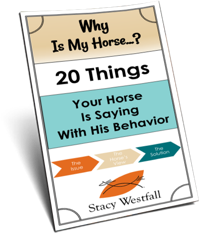 FREE PDF DOWNLOAD
WHY IS MY HORSE...?
Free PDF Download "Where is my horse...?"
20 things your horse is saying with his behavior.