Dear Mom,
I missed you today….. I hope it wasn't the thing about the dogs. I'm really OK with being ridden instead of being driven around on a machine.
Newt's person took me for a walk. A giant shiny bird flew over and she said you were in it. Birds don't eat people though…they like my grain.
She fed me an apple but I still miss you 🙁
Your Lonely Pony,
Louie
*         *          *
Wondering who Louie is? Watch the interview: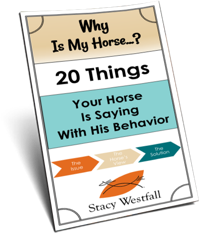 FREE PDF DOWNLOAD
WHY IS MY HORSE...?
No one taught you the skills you need to work through these things.
Riders often encounter self-doubt, fear, anxiety, frustration, and other challenging emotions at the barn. The emotions coursing through your body can add clarity, or can make your cues indistinguishable for your horse.
Learning these skills and begin communicating clearly with your horse.
Click here to learn more.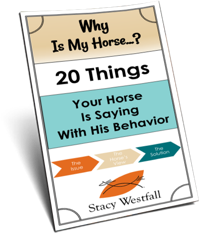 Free PDF Download "Why is my horse...20 things your horse is saying with his behavior"
PDF will be delivered to the email address you enter as will weekly tips from Stacy. Totally free. Unsubscribe anytime.