If you ever find yourself with an orphan foal for whatever reason you will need to be prepared to offer them the nutrition that they need. The two foals that I have were taught to drink from a bucket for several reasons. The first is that the foals like to drink small amounts fairly frequently. Using a bucket instead of a bottle means that once it is made the foal has free choice access to it without a human needing to be there. Another benefit is that the foals don't associate humans with food and are less likely to be mouthy in the future. As you will see in the video, the foals clearly go for the bucket when I bring it in. This has also made it easier to feed them other foods such as foal pellets, grass and hay because if I hang up a bucket…they expect to find food in it.
My foals came from Last Chance Corral and had already been taught to drink from a bucket. You can see a short clip of this training being done in this video: https://youtu.be/Muj69eBJQ_A . The short version is that while holding the milk near the foals muzzle you allow them to suck on your fingers and guide their muzzle into the milk. Once they begin sucking up the milk on accident they catch on pretty quick. 
With an orphan foal it is your job to keep fresh milk in front of them and their job to drink it. 
Here's the low down on mixing up the milk. This recipe is from Last Chance Corral.
BUCKEYE Nutrition Mare's Milk-2 scoops (provided in bag) 

G.U.T. by Ukele (ulcer prevention)-2 scoops (provided)

Pro-Bios Powder (probiotic)-2 scoops (provided)

Low-Fat Vanilla Yogurt (2 lb tub is best)-1 lb per bucket made

Quaker Instant Oats-1-2 cups
In a very clean bucket, add 2 inches of water. Add BUCKEYE Nutrition Mare's Milk, G.U.T, probiotic, yogurt and oats. Then comes the fun part…mix it all up with your hand. Feel free to use a whisk if you would like, the important part is to get it mixed well. I think it is fun…but I might be a bit strange..
Then fill the bucket to the 5 gallon mark for this recipe. As you can see from the babies reaction they really like it!
Things to remember:
The babies are messy and chew on everything so expect a dirty, sticky, messy bucket that will need to be washed with hot water before next use. 
Make the water warm if the babies are younger or it is cool out or if you are trying to tempt them to drink when they don't feel good. Cooler if the weather is hot so it doesn't go bad as quickly-it will eventually spoil in heat (Buckeyes website says it stays good around 12 hours…my babies finish it before then!) 
I'm mixing mine in a 5 gallon bucket so these are my ratios. The directions are clear on the BUCKEYE Nutrition Mare's Milk if you wanted to adjust the amount you make, then adjust the remaining ingredients accordingly. 
Happy cooking!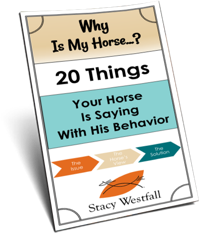 FREE PDF DOWNLOAD
WHY IS MY HORSE...?
No one taught you the skills you need to work through these things.
Riders often encounter self-doubt, fear, anxiety, frustration, and other challenging emotions at the barn. The emotions coursing through your body can add clarity, or can make your cues indistinguishable for your horse.
Learning these skills and begin communicating clearly with your horse.
Click here to learn more.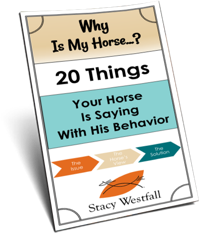 Free PDF Download "Why is my horse...20 things your horse is saying with his behavior"
PDF will be delivered to the email address you enter as will weekly tips from Stacy. Totally free. Unsubscribe anytime.