"I am in love with horses and your blogs. Unfortunately I live in the city with no access to horses. I am sixteen and curious if you could give me a few possible jobs that involve horses, outside of vet and farrier." Thanks Paula S.
I remember when I was a kid the only jobs I could think of that involved horses were vet, farrier and jockey. For some reason I over looked some jobs that were right in front of me, for example, magazine writer. I read a horse magazine but didn't really think about all the job opportunities that were offered inside of that: writer, photographer, editor, etc.
The list will be really, really long when you really think about it. So long in fact that the shorter way to find the answer may be to start with some of your other strengths and then see how they could intersect with horses. If you love long car trips, you could be a horse hauler. If you love kids, you could specialize in beginners camps. If you like braiding hair or grooming, you could become a groom on the hunter circuit. If you have a background in something like music ask yourself how that could intersect with horses.
I can start a list here and then people can add comments with more job ideas. I will try to remember to update the list:
Barn Manager
Horse Trainer
Stable Hand
VetTech
Farrier
Therapeutic Riding Instructor
Horse Sitter
Horse motel owner
Assistant Trainer
Riding Instructor-many levels, basic to Olympic
Clinician
Groom
Stall Cleaner
College Professor
Stunt Rider or Double
Circus Performer
Web Designer
Social Media
Graphic Designer
Mounted Police
Writer
Horse Artist
Horse photographer
Show photographer
Magazine photographer
Movie producer
Screen writer
Professional Rider
Horse Show Manager
Judge-many levels from Open show to breed specific
Ring Steward
Course Designer-trail, jumping, etc
Jump Designer
Mounted Guide-work for someone or own your own
Design Horse Communities
Dude Ranch Hand-work your way up to manager
Dude Ranch Manager-work your way up to owner
Dude Ranch Owner
Horse Camp Owner
Horse Camp Counselor
Carriage Driver-weddings, events, downtown
Rodeo Crew
Rodeo Promotor
Rodeo Clown
Rodeo Pick Up Rider
Jockey
Racehorse Trainer
Horse Expo Manager
Exercise Rider
Outrider at track
Breeder
Breeding Manager
Broodmare Manger
Stallion Manager
Foaling Attendant
Breeding Technician
Massage Therapist
Rehabilitation
Equine Dentist
Nutrition Specialist
Feed Store Owner
Feed Sales Rep
Custom Leather Work
Silver smith
Inventor
Clothing designer
Gun smith (mounted shooting)
Saddle maker
Bit maker
Announcer
Auctioneer
What can you add to this list?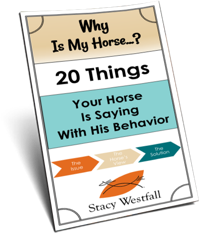 FREE PDF DOWNLOAD
WHY IS MY HORSE...?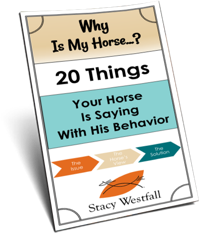 Free PDF Download "Why is my horse...20 things your horse is saying with his behavior"
PDF will be delivered to the email address you enter as will weekly tips from Stacy. Totally free. Unsubscribe anytime.