Two years ago my mom sent me this photo and asked me what I thought was going on. We discussed sunburn…but it didn't really fit. Last year she sent me another similar photo. It seemed that something was seriously irritating Scrappers nose but generally just in the spring. Both times my mom put some ointment on it and it went away but remained a mystery…until this spring.
While surfing the web my mom came across the fact sheet below and we think she has solved the mystery. It turns out that buttercups can cause contact irritation, especially when the weather is wet, and it is more likely to irritate white skin. Keep in mind that Scrapper is not eating the plants, he has plenty of access to hay and grass, he is simply touching the plants while he grazes.
I had known that buttercups were toxic if eaten and that horses generally avoided them because of their bitter taste but I didn't know they were irritating to touch. Did you?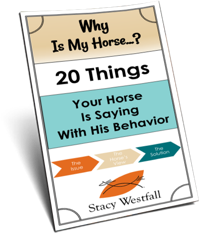 FREE PDF DOWNLOAD
WHY IS MY HORSE...?
No one taught you the skills you need to work through these things.
Riders often encounter self-doubt, fear, anxiety, frustration, and other challenging emotions at the barn. The emotions coursing through your body can add clarity, or can make your cues indistinguishable for your horse.
Learning these skills and begin communicating clearly with your horse.
Click here to learn more.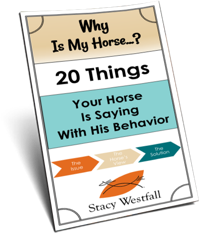 Free PDF Download "Why is my horse...20 things your horse is saying with his behavior"
PDF will be delivered to the email address you enter as will weekly tips from Stacy. Totally free. Unsubscribe anytime.