"Stacy, is Smokey (This Whiz Shines), Bob Baffert's stable pony, any relation to Roxy or your other horses?"-Linda L.
Yes…Roxy, Jac, and Newt would all be related. It gets kinda complicated but, for the most part, it would be a different versions of 'cousins'.  Not sure what we're talking about? Keep on reading.
If you have been keeping up with American Pharoah's races and workouts you may have noticed the buckskin  Quarter Horse that is often with him. His name is 'This Whiz Shines' aka Smokey…and he was a reining horse before becoming a well known pony horse at the track.
The AQHA did a great article on both Bob Baffert and his Quarter Horses that you can read online. It turns out that This Whiz Shines isn't the only reining-horse-turned-pony-horse out there.
Will you be watching today?
2015 BELMONT STAKES
Television time: 3:30-6 p.m. on NBC.
Post time: 5:50 p.m.
Live stream: NBC Sports Live Extra
Mobile live stream: NBC Sports Live Extra
Will American Pharoah join this elite group?
The 11 previous Triple Crown winners:
1919: Sir Barton
1930: Gallant Fox
1935: Omaha
1937: War Admiral
1941: Whirlaway
1943: Count Fleet
1946: Assault
1948: Citation
1973: Secretariat
1977: Seattle Slew
1978: Affirmed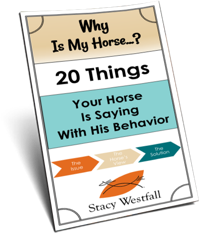 FREE PDF DOWNLOAD
WHY IS MY HORSE...?
No one taught you the skills you need to work through these things.
Riders often encounter self-doubt, fear, anxiety, frustration, and other challenging emotions at the barn. The emotions coursing through your body can add clarity, or can make your cues indistinguishable for your horse.
Learning these skills and begin communicating clearly with your horse.
Click here to learn more.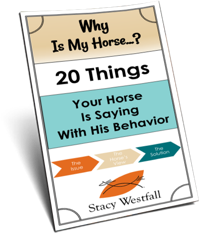 Free PDF Download "Why is my horse...20 things your horse is saying with his behavior"
PDF will be delivered to the email address you enter as will weekly tips from Stacy. Totally free. Unsubscribe anytime.