My plan was to visit the Sugarcreek Horse auction tomorrow. It isn't a place that I enjoy going but it is a place that I feel compelled to visit because I want to see the reality. I want to know from first hand experience what is going on because I want to be part of the solution…which means I need to be willing to observe the problem.
Trips to an auction that largely sells to slaughter is not my idea of an uplifting day. Or at least it wasn't until I began attending with a rescue. In my early years of attending I left disheartened and depressed. Hopeless. Until I stumbled onto something that has improved it.
Many of you know that I have been involved with Last Chance Corral for years, even adopting a nurse mare foal from them in 2016. I went for the foals but I now admire the people. Victoria has dedicated her life and her finances to helping horses in need. Sometimes that is a cute, fuzzy foal and other times it is older horses that are starved, neglected or surrendered. These amazing people wade through the messes and find the good in them all while dealing with some TOUGH decisions.
It was during my visits to Last Chance Corral where I first met Rachel Bendler. She was dedicated to the vision of helping horses in trouble and she was right there on the front lines getting her hands dirty. The photo here shows Rachel giving me a 'butt washing' lesson on one of the foals…something that is done many, many times each day during that season.
It didn't surprise me when in 2015 Rachel sent me a text telling me that her dream to rescue slaughter bound horses was now a reality. Her rescue, Bella Run Equine, became an official 501(c)3. 
This is the connection that makes my trips to Sugarcreek more bearable. Rachel and I text and my trips line up with hers. I go to the auction and I still see the reality of uncared for, underfed, or injured animals…or sometimes simply untrained animals…or sometimes quiet 4H horses…run through the pen but now I have hope. Now I watch theses horse get saved. I watch Rachel evaluate, pick and fill her trailer. Sometimes I write a check. Sometimes she asks for my thoughts. Always she gives me hope. I follow her on Facebook.
Which is how I knew even before she texted me that our trip to Sugarcreek was going to be postponed. We have been planning on going tomorrow but I saw last night that she was probably going to be too busy. Have you seen the posts about the horses in Jackson County? The horses that needed to be rescued? Guess where they are now….yep. Bella Run Equine.
I texted first and told her she looked a bit busy. She laughingly agreed (gotta love emojis). When the timing is right the sale will still be there. The horses will still be there. Much like the starfish story the problem will still be there. But also like the starfish story it will make a difference in the lives of those that are saved.
I'm telling you all of this because I want you to know that there are amazing people out there who are really helping. They are making a difference. They are getting their hands dirty. They make tough decisions that sometimes I am (selfishly) glad that I don't have to make. They cry…because they aren't hardened to this problem or avoiding this problem…they are knee deep, hands dirty, right in the middle of the problem because of love.
There are days I think about filling all of my stalls with rescued horses but I don't believe that is my true calling. On those days, I look at Presto, take a look at Last Chance Corral or Bella Run online and decide how I will help… even when my little doesn't seem like enough. A like, a share, a kind word,  a post, a dollar, a horse, a barn full of horses…do what you can for where you are at. But do.
Photos from yesterdays rescue, link to Bella Runs fb post (https://www.facebook.com/BellaRunEquine/posts/1412854255465764)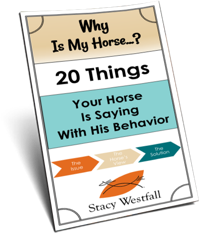 FREE PDF DOWNLOAD
WHY IS MY HORSE...?
No one taught you the skills you need to work through these things.
Riders often encounter self-doubt, fear, anxiety, frustration, and other challenging emotions at the barn. The emotions coursing through your body can add clarity, or can make your cues indistinguishable for your horse.
Learning these skills and begin communicating clearly with your horse.
Click here to learn more.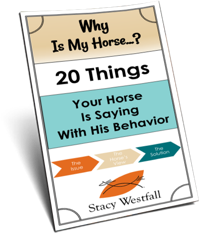 Free PDF Download "Why is my horse...20 things your horse is saying with his behavior"
PDF will be delivered to the email address you enter as will weekly tips from Stacy. Totally free. Unsubscribe anytime.