After seeing this video from 1988 I had to know more. The video is of Andrew Sałacki, a Polish rider, demonstrating Grand Prix dressage on his mare without a bridle. His ride led to numerous demonstrations around the world for more than three years including performing for the Queen.
I translated the following from this website (that I cannot read) and learned the following:
As reported by the service www.sport.pl well known and respected in the equestrian environment not only Polish, 58-year-old Andrew Sałacki is one of the greatest riders in the history of Polish dressage.
In his credits include 12 Polish Championship medals in dressage as well as participation in the World Cup Final struggle in this competition.
Undeniably the maturing permanently in the memory of his demonstration rides were GP class Font mares during the "Horse of the Year show," which took place at London's famous Wembley Stadium in 1988.
Polish rider sensation show was the fact that the whole program of the competition he performed GP Fonts walking in deprived bridle.
This has led to so much recognition that Andrew Sałacki was invited to present his show in front of Queen Elizabeth II.
No less impressive looks Sałackiego Andrew coaching achievements. Levada successful club players with sufficient Zakrzow are the showcase. In the years 2000 – 2004 he was the coach of the National Team FEI dressage. He also worked as a training consultant in its crown discipline of dressage (formerly practiced equestrian vaulting and eventing) in Germany and the USA.
How interesting! I wondered what inspired him to do this in 1988? Did he ever try again with another horse? Either way it is a video worth watching.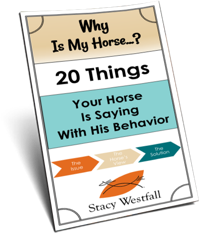 FREE PDF DOWNLOAD
WHY IS MY HORSE...?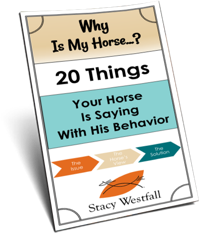 Free PDF Download "Why is my horse...20 things your horse is saying with his behavior"
PDF will be delivered to the email address you enter as will weekly tips from Stacy. Totally free. Unsubscribe anytime.