It has been an unusual birthday so far. Up most of the night with a crazy head cold, my son told me that the cold medicine didn't work when he had the cold last week. I told him it always has. Last night a 2 A.M. I agreed with him even though I was the only one awake.
I woke to the news from my husband that I was really 40 years old.  Due to a combination of 1) lack of sleep 2) cold medicine 3) my famously poor math skills I hesitated before contradicting him. I was born in 1974……I was pretty sure that I had one more year before 'the big one'.
But, of course, he proved himself correct again by explaining that I am currently entering my 40th year of life on earth beginning today.  This makes me wonder if homeschooling the boys last year planted this East Asian thought in my husbands head as they consider a baby to be one at birth…..too much thinking for my current head cold.
It hasn't been all bad though. Yes, I have slept away a good part of the day. However, during that time the house was mysteriously (and silently) cleaned. Presents have appeared on the table. Birthday wishes are appearing on Facebook and my phone. I have been waited on whenever I make an appearance. My husband has saddled my horse for me because I am determined to ride on this beautiful day.
I have been able to breath for the last four hours without cold medicine, yeah!….which, hopefully is a sign that I will be able to taste food again, as a friend dropped off this cake. I heard it is the closest recipe she could find to the one my great grandmother baked; chocolate cake with a coconut filling.
Yep, it has been an unusual day, but still a good one!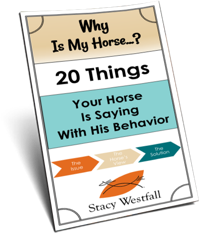 FREE PDF DOWNLOAD
WHY IS MY HORSE...?
No one taught you the skills you need to work through these things.
Riders often encounter self-doubt, fear, anxiety, frustration, and other challenging emotions at the barn. The emotions coursing through your body can add clarity, or can make your cues indistinguishable for your horse.
Learning these skills and begin communicating clearly with your horse.
Click here to learn more.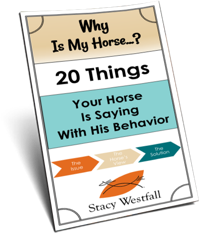 Free PDF Download "Why is my horse...20 things your horse is saying with his behavior"
PDF will be delivered to the email address you enter as will weekly tips from Stacy. Totally free. Unsubscribe anytime.