Have you seen the story of this little mini who received a prosthetic leg? They said in one of the videos that within minutes of being fit for the leg he took off running on his own!
At first I didn't understand this little horses story but after reading this article I started to understand. Here is an excerpt but I suggest reading the whole article for the complete story.
"The little horse was malnourished and miserable. Midnite had been neglected by his owners. To make matters worse, Midnite was born with a deformity in one of his back legs. The deformed leg is much shorter than the other three and does not have a hoof or a coffin bone.

Midnite could scarcely walk at all. Lying down was a problem also, because a horse needs four good legs in order to stand back up from a prone position. Midnite spent most of his days standing in one place, shifting his weight from one of his three good legs to another, and trying to avoid walking or moving."
It was interesting to listen to the folks from Ranch Hand Rescue discuss the options and decision making going into rescuing
Maybe the best part of the story…after watching Midnite running so free, is the idea that he can, and has, inspired others. The idea that children who are waiting to be fit for their own prosthetics can be inspired by this little guy really touched me. We so often look to horses for their physical power and grace but this little mini is also showing us perseverance and the power to accept life even when it isn't perfect.
 "Midnite also makes special trips to call on disabled children in the area. For example, this summer he was an honored guest at the Scottish Rite Children's Hospital summer camp, a camp for children with physical disabilities and other medical needs. Midnite has become the special friend of many physically disabled children, disabled veterans and amputees, who he inspires with his charm and spirit."
Here is another video of Midnite. Even though the last video isn't directly about him but instead about how rescued horses can help people it is really worth watching.
This video is more about Ranch Hand Rescue but does a great job of showing how rescued horses can help people. If you want to see Midnite at work skip to 1:55 in the video.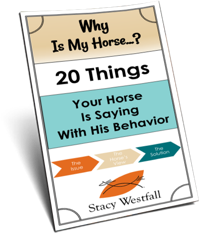 FREE PDF DOWNLOAD
WHY IS MY HORSE...?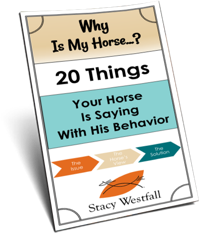 Free PDF Download "Why is my horse...20 things your horse is saying with his behavior"
PDF will be delivered to the email address you enter as will weekly tips from Stacy. Totally free. Unsubscribe anytime.