What does McDonald's have to do with horse training? Well, lets look at this as a thought.
I watched a documentary the other day on the health benefits of juicing. By juicing I mean the process of using a juicer to extract the juice from fruits and veggies to drink. The theory is that you can juice MANY veggies and reduce them to just a few glasses of juice, drink that, thereby receiving the health benefits of eating a very large amount of veggies and fruit.
I do believe that juicing works. And that it has all of the health benefits it describes.
But do you know what I did with this information? I stressed myself out. I found myself in the grocery store looking at veggies and thinking 'if it is not organic I won't buy it.'
Then I caught myself. Why is it that I tend to swing so far? Why do I go from 'pre-packaged junk food' to 'organic or bust'? Why not start slowly start improving?
Do you find this thought process in your life? Do you have this habit in your horsemanship?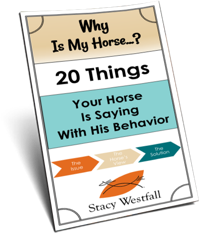 FREE PDF DOWNLOAD
WHY IS MY HORSE...?
No one taught you the skills you need to work through these things.
Riders often encounter self-doubt, fear, anxiety, frustration, and other challenging emotions at the barn. The emotions coursing through your body can add clarity, or can make your cues indistinguishable for your horse.
Learning these skills and begin communicating clearly with your horse.
Click here to learn more.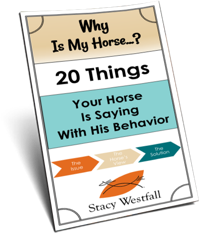 Free PDF Download "Why is my horse...20 things your horse is saying with his behavior"
PDF will be delivered to the email address you enter as will weekly tips from Stacy. Totally free. Unsubscribe anytime.