One of the perks of moving to Texas at this time is the close proximity of horse events. Last weekend our family
packed up and drove a little over an hour to Fort Worth, Texas to watch the Worlds Greatest Horseman finals. While we were there we not only got to see some great horses but we also met some of Jac's fans.
The Worlds Greatest Horseman 2014 took place this year during the National Reined Cow Horse Association show, held this year in Fort Worth, Texas.
To compete the horse and rider team must first qualify. Ten rider/horse teams are moved into the actual competition.
The teams then compete in four events back to back; cutting, reining, roping and working cow horse. This calls for a horse that knows it's job and also has the endurance and heart to compete in this event. The rider is also required to ride the horse in the same bit for all four events.
Here is a short video of this years winning team, Boyd Rice rode Oh Cay N Short.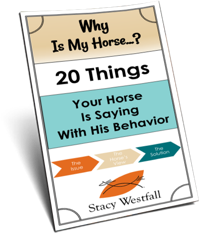 FREE PDF DOWNLOAD
WHY IS MY HORSE...?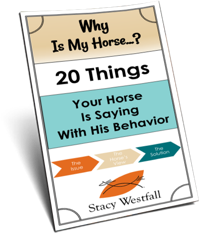 Free PDF Download "Why is my horse...20 things your horse is saying with his behavior"
PDF will be delivered to the email address you enter as will weekly tips from Stacy. Totally free. Unsubscribe anytime.