I had a chance to spend a little time at the 2016 Road to the Horse before catching a plane to Florida to attend a benefit for a local horse rescue. In my short time there I was asked several times about competing again in the future…and one of those times was by Tootie Bland, the event producer. I learned (as you can see in this video) that she was going to focus on women in 2017.
I am excited about the all women event because I know that there are many worthy women who are very capable and would love the chance to show their talent. I fully intend to be in the stands cheering them on as they do. (Tootie says she won't let me sit much…lol)
At this time I don't feel the desire to compete again at the Road to the Horse. I've had a well rounded experience there; I won once and I lost once. Maybe if I'm ever going to do it again I will have to look for another barrier to break…how old is the oldest champion?
I know the first two women who have been announced and respect their talent. I'm also looking forward to seeing who else is selected. One thing is for sure, at the end of the 2017 Road to the Horse I will no longer be the only female champion! I can hardly wait to see who it is!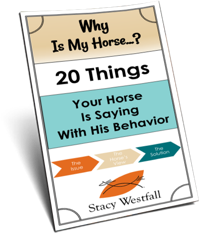 FREE PDF DOWNLOAD
WHY IS MY HORSE...?
No one taught you the skills you need to work through these things.
Riders often encounter self-doubt, fear, anxiety, frustration, and other challenging emotions at the barn. The emotions coursing through your body can add clarity, or can make your cues indistinguishable for your horse.
Learning these skills and begin communicating clearly with your horse.
Click here to learn more.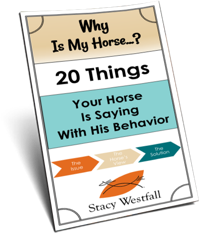 Free PDF Download "Why is my horse...20 things your horse is saying with his behavior"
PDF will be delivered to the email address you enter as will weekly tips from Stacy. Totally free. Unsubscribe anytime.