I took my almost sixteen year old son with me to the Apple store today. I really want a Mac computer but I'm afraid to make the leap. Standing in the store while waiting for a sales person we both started playing with the Macbook Air. Neither one of us had used one before.
In minutes he had figured out what swiping with one, two, three fingers did as well as how to open and close things….I was still figuring out how to scroll up and down…..
It reminded me of the day when he was four and he walked into the kitchen and asked me, "Mommy, what does D-E-L-E-T-E mean?" I knew he had been playing Mario Sunshine….I knew we had been helping him and he was at a very high level…or at least had been:(
This generation is good with computers because they are willing to experiment. Are you willing to experiment in life?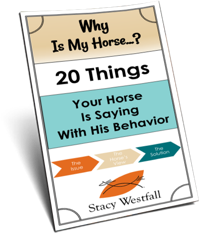 FREE PDF DOWNLOAD
WHY IS MY HORSE...?
No one taught you the skills you need to work through these things.
Riders often encounter self-doubt, fear, anxiety, frustration, and other challenging emotions at the barn. The emotions coursing through your body can add clarity, or can make your cues indistinguishable for your horse.
Learning these skills and begin communicating clearly with your horse.
Click here to learn more.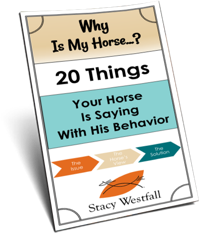 Free PDF Download "Why is my horse...20 things your horse is saying with his behavior"
PDF will be delivered to the email address you enter as will weekly tips from Stacy. Totally free. Unsubscribe anytime.