You may have heard that we sold our house. Many of you have questions like:
"What will happen to Jac?" (he will come with me)
"Will you still blog?" (yes, and it might even get more exciting)
And "Where are you going?" (this one is a bit more complicated)
We are going to try living nomadically for awhile.
I know we are heading to TX in Feb for a few months but after that we are pretty
wide open to ideas! Visiting friends in PA…visiting CO…really, we are not sure.
Dani on Facebook sent the suggestion to visit  Salt Creek Ranch in Vail Valley…CO. Wow. Sounds like a fun place to visit!
————————————————————————————————————————————————————–
While we have some ideas in mind we are still open to ideas and suggestions. So if you have any thoughts feel free to leave a comment below. We will likely be traveling with six horse and WILL have three kids too!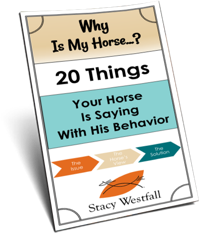 FREE PDF DOWNLOAD
WHY IS MY HORSE...?
No one taught you the skills you need to work through these things.
Riders often encounter self-doubt, fear, anxiety, frustration, and other challenging emotions at the barn. The emotions coursing through your body can add clarity, or can make your cues indistinguishable for your horse.
Learning these skills and begin communicating clearly with your horse.
Click here to learn more.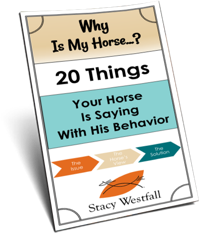 Free PDF Download "Why is my horse...20 things your horse is saying with his behavior"
PDF will be delivered to the email address you enter as will weekly tips from Stacy. Totally free. Unsubscribe anytime.