Unfortunately, training horses comes with setbacks. Sometimes horses get sore or go lame. While I was at a show with Willow, I decided to turn Gabby out. Three things happened to converge; her feet had been recently trimmed, the ground was frozen in the morning, and she decided to run hard and play. During turnout, she bruised her front feet and needed time off.
While it was disappointing to miss time, I am really happy it wasn't something more serious. Gabby has now made a full recovery and will show up in the next episode.
When you run into setbacks, keep in mind that this is part of life with horses.
In 2019 I plan on showing two of my horses in Western Dressage with the goal of showing at the Western Dressage World show in October.
Along the way, I am also training and showing in traditional dressage , reining and ranch riding with my quarter horses.
I'm going to be sharing my journey so anyone who is interested can learn along with me.
Massage by Taryn Yarnell-Stillwell @ https://www.facebook.com/taryn.yarnell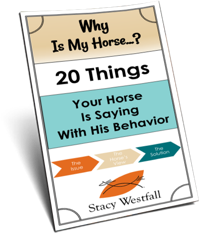 FREE PDF DOWNLOAD
WHY IS MY HORSE...?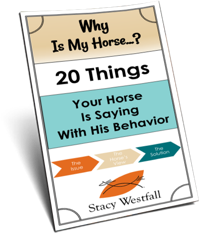 Free PDF Download "Why is my horse...20 things your horse is saying with his behavior"
PDF will be delivered to the email address you enter as will weekly tips from Stacy. Totally free. Unsubscribe anytime.