I ask myself this question several times a year but almost daily during the time between Christmas and New Years. I love setting goals and New Years Resolutions look suspiciously like the beginning of goals. I say the beginning because after you set the goal you need to build the steps to reach it.
How often do you ask yourself the question, "What would I do…if I could?" I personally phrase it like this because it sounds a little different to me than the more common "If you could do anything, what would do?" The secret is the phrase "if I could" because this little phrase will sneak into your mind. The phrase will aim your focus onto 'could' and will hopefully help you be more specific. Could you? What is keeping you from it?
Here are three other people who seem to have a similar line of thinking:
"If I could I would always work in silence and obscurity, and let my efforts be known by their results."-Emily Bronte
Guess what, she did: She led a quiet life and had a reserved nature but wrote with passion in her classic novel Wuthering Heights.
 "I decided that if I could paint that flower in a huge scale, you could not ignore its beauty."-Georgia O'Keeffe
She did it too!  She was a famous American painter who held her own in the art world, making a name for herself and sticking stubbornly true to her own art form while building her career. I saw her art when I visited the Amon Carter Museum in Fort Worth, Texas.
"I went to the woods because I wished to live deliberately, to front only the essential facts of life, and see if I could not learn what it had to teach, and not, when I came to die, discover that I had not lived."-Henry David Thoreau
OK, he cheated because he wrote this after he already did it so he changed his phrasing…but I he clearly asked himself the question "if I could" at some point! He not only went into the woods to "live deep and suck out all the marrow of life," as he wrote in Walden.
Yep, I'm in good company when asking 'if I could.' So how about you?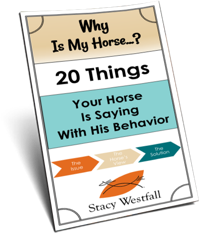 FREE PDF DOWNLOAD
WHY IS MY HORSE...?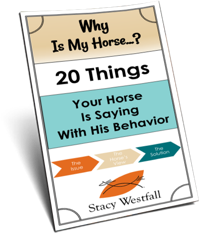 Free PDF Download "Why is my horse...20 things your horse is saying with his behavior"
PDF will be delivered to the email address you enter as will weekly tips from Stacy. Totally free. Unsubscribe anytime.