Most of the time we choose to train our horses as our schedule allows, first thing on a Saturday morning, just after school on a weekday or in the hour before dinner on a summer night.
Others schedule to ride with their coaches once or twice a week, maybe 1:00 on Wednesdays or Tuesday and Thursdays at 4 pm. and they hope to do most of their training under supervised rides. But when is the best time to train?
Answer: When the opportunity presents itself.
As much as we would like to make the 'best' training times fit into our schedules, it is often the worst times that offer the most opportunity.
Take this photo for example. This was taken close to midnight after a very long day at the Congress…but it happened to be the best time for training. I say that it was the best 'time' because it is the time that Newt, my horse, told me he needed to be trained. Earlier that day we had ridden in the arena but I noticed when I left the arena and walked down this alley, Newt was excited by the activity. What you cannot see in the photo is that to our left (the right side of the photo) there are horses being ridden..and their feet are at Newts eye level. It is a strange angle to view horses from…at least that is what Newt said!
When Newt got excited I chose to turn him back and ride up and down the alley until he calmed down. I even took him up into the arena for a little work. He ended up walking back to the stalls fine…but it left a lingering question in my mind. Did Newt really get over it?
So here I am, four hours later, double checking. I knew I wouldn't sleep well without knowing the answer and I was hauling out of the show the next morning and would lose the opportunity to be in the same situation again. So I saddled up, just before midnight, to do some final training.
Turns out everything was fine. Newt walked quietly and the entire ride took only a few minutes…but if it had taken all night I would have been find with that too. The best time to train a horse is when the opportunity presents itself and I'm not one to skip that opportunity.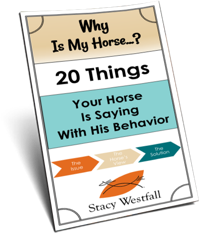 FREE PDF DOWNLOAD
WHY IS MY HORSE...?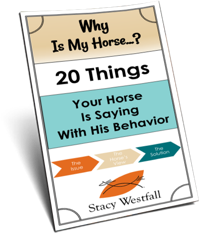 Free PDF Download "Why is my horse...20 things your horse is saying with his behavior"
PDF will be delivered to the email address you enter as will weekly tips from Stacy. Totally free. Unsubscribe anytime.