"How do you know what a horse is really suited for in the way of a discipline? I am new to riding and looking at a beautiful 8 year old palomino mare… walker…. She has not been worked in awhile but we connected immediately! These are naive questions, but can you train for barrels, reining, or what breeds are more suited for particular disciplines? She is really smart and special!!
Thanks so much" …. Rozanne
Buying a horse is a big deal, especially if you are new to riding. This generally means that you will have less experience and, like any other area of life, less experience means your direction is probably not as clear. It is good that you are asking questions like this one but at the same time it is possible that a year from now you will have a better idea of the direction you are headed.
I am going to answer your question from several different angles. First, many breeds can compete at lower levels in a variety of disciplines. When you look at the high levels in specific disciplines you will tend to see certain breeds that excel. Sometimes breeds are lumped into categories because they have similarities. For example, if someone says that the 'stock breeds' tend to excel in reining they are lumping Quarter Horses, Paints and Appaloosas together under one title. If you are looking at a walking horse it would be good to look at what areas they excel in and see if those appeal to you.
When considering what appeals to you think about what the majority of your time will be spent doing with your horse. If you will mostly trail ride but occasionally show then your needs will be different then if you mostly show and occasionally trail ride. If you have been taking lessons from someone then ask them to sit down and evaluate things with you. Get their professional opinion of your strengths and weaknesses as a rider.
Many people also go about this with a completely different approach, especially with their first horse. They often buy a horse while they have little experience and accept the idea that they have no real idea of where they are headed except out for a ride. In this case these people tend to look at the horse for direction; they own a walking horse so they pick events that the horse would excel at.
Even inside specific breeds looking to the horse is important. I own a horse, Popcorn, that I bought at the Road to the Horse. He is a Quarter Horse and they typically do well in reining but he isn't bred strongly for it.  Although I trained him and showed him successfully in reining, it was not his strength so I changed gears. He is my favorite trail horse, I use him when training my young horses and he has won me several belt buckles in mounted shooting. Popcorn wasn't bought to excel in one sport, he was bought to be my horse and we do what we like.
When I am competing in reining I select horses that are strongly bred for that discipline but I rode horses for close to fifteen years before I began to focus on reining.
I do remember the excitement of buying my first horse. I also remember thinking about all of the different options out there and I worried that I would choose wrong. Much like you I looked at horses and picked the one that I connected with…strange how that happens. We also had a professional evaluate the horse and we did a vet check. I played with many, many things over the years from trail riding to contesting, parades, swimming and jumping. I never regretted my choice.
Not everyone has that same first horse experience, but many do. One of the advantages that experience gives is that quite often things become more clear, because much learning takes place in our mistakes. I tried many things with my first horse but we didn't excel at all of them…but we still had fun.
If I had one piece of advice, beyond getting hands on advice from a pro, it would be to remember to buy a horse you will enjoy being with. That includes both the appropriate training level and who the horse is at the core. Are you drawn to horses with a sweet temperament? Goofy? Serious? Many aspects of your horse can be trained and improved but their personality should be one you enjoy.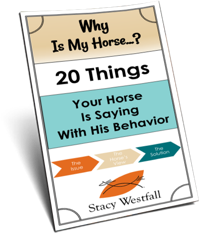 FREE PDF DOWNLOAD
WHY IS MY HORSE...?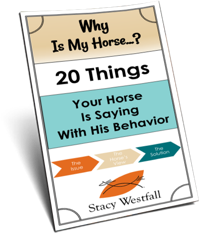 Free PDF Download "Why is my horse...20 things your horse is saying with his behavior"
PDF will be delivered to the email address you enter as will weekly tips from Stacy. Totally free. Unsubscribe anytime.