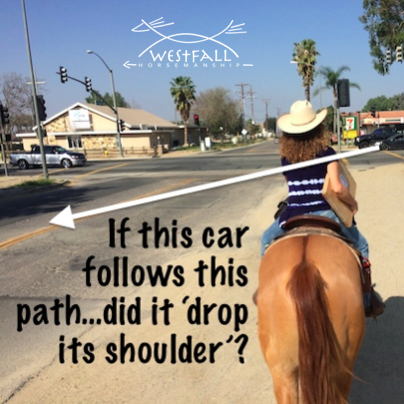 Yesterdays blog discussed 'Confusing terms people use around horses' and the following comment showed up on the Facebook post.
 "I've been yelled at – and still don't know what a dropped shoulder is."-Karen S.
This is a great example of a confusing term. I agree that people over use this term AND I believe it would be possible to sit down with three different professionals and have at least three different definitions of the term.
Dropped shoulder:
the horse leaves the desired path of travel around the arena, cutting to the inside
the horse desires to leave the current path of travel and turn early, the rider uses a cue to keep him from doing so (inside rein, inside leg) resulting in the feeling that if the rider 'let go' or stopped 'holding him up' the horse would 'fall in'
a lack of elevation in the front end combined with the desire to turn to soon
In general the term is used when the horse wants to cut to the inside of the path of travel. This happens more often when a horse is ridden in a riding arena. It doesn't take a horse too long to figure out that if you are traveling counter-clockwise around an arena that the pattern is; go straight, turn left, go straight, turn left, go straight, turn left, go straight, turn left, go straight, turn left, go straight, turn left…..you get the point.
Soon the horse thinks, "A left turn is coming….lets do it now." and the 'dropped' shoulder has begun. Keep in mind that the shoulder can't be 'dropped' unless at some point it is being held. Stop 'holding the shoulder up' and what happens?
I would argue that most of the time a 'dropped shoulder' is nothing more than cutting a corner. Ever been at a 4 way stop in your car? Ever had someone turn and almost hit the front corner of your car? They were 'dropping their shoulder'….but clearly the car wasn't leaning. People tend to mean 'dropping the shoulder' when the horse is simply 'turning too early'.
Is it fixable? Yes, but the rider has to be willing to stop 'holding him up' and let him make the mistake. When he leaves the path of travel the rider needs to correct it…and then let him go and probably make the mistake again. Ultimately the horse must become responsible for 'holding' his own shoulder up because he knows you will correct him and then let go again. There is a huge difference between correcting the issue vs becoming part of the problem.
This is how I define a dropped shoulder…but is that what your riding instructor means?
P.S.-this post triggered a follow up post '3 Things to Remember with Horses that 'drop their shoulders'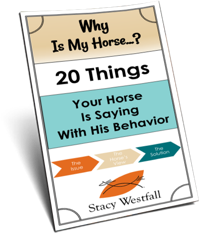 FREE PDF DOWNLOAD
WHY IS MY HORSE...?
No one taught you the skills you need to work through these things.
Riders often encounter self-doubt, fear, anxiety, frustration, and other challenging emotions at the barn. The emotions coursing through your body can add clarity, or can make your cues indistinguishable for your horse.
Learning these skills and begin communicating clearly with your horse.
Click here to learn more.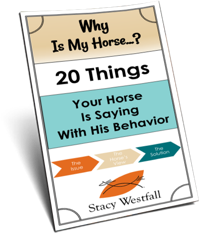 Free PDF Download "Why is my horse...20 things your horse is saying with his behavior"
PDF will be delivered to the email address you enter as will weekly tips from Stacy. Totally free. Unsubscribe anytime.