In eight days, I will find out the results of Presto's first horse show…not that I'm counting:)
⏰This extra time, this unusual gap between 'show' and 'results' has been an interesting experience.
Generally, the results are known quickly. Moments, minutes, maybe an hour later.
Many a rider has held their breath…waiting to hear how they were judged.
?Many coaches try to get the student to see the progress or the journey they are on, the changes they are making over time. In a way, the coach is attempting to train the student to see their own results as individual, in addition to being ranked in a class.
This is a challenging concept to teach when emotions are running high and ribbons are being awarded. ??
The large time gap that was designed as part of the Western Dressage World Show has made this distinction so much easier to understand.
?Personally, when I recorded my test I 'judged' it myself. Even before I saw the video I had an opinion.
Then I watched the recording, and I modified and solidified my opinion even more. Yes, this represents Presto's training level.
I submitted the test…and I could feel the vibration of anticipation; What will others think?
?One week.
?Two weeks.
?Three weeks went by.
The vibration faded.
The logical, thoughtful side of my brain taking more control than the emotional side.
?In eight days the judges will release their opinion of Presto's ride. They will judge him on a dark, grainy video during a few minutes of one ride.
They are not predicting the future.
They are not condemning the horse or the rider.
They are simply evaluating what they see, from their view, and holding it up against a standard to the best of their well-trained ability.
They are offering feedback.
I've never experienced a delay in results like this before.
It makes me wonder what live shows would be like if each rider rode…and they sealed up the results to reveal a month later…
What emotions would the riders feel?
What would they base them on?
I don't anticipate this becoming a reality anytime soon but it is an interesting thought.
We so often strive to teach our horses to be 'ready' yet not to anticipate…to be willing yet not to be hot…in short to be a bit less reactive and emotional.
But sometimes it's worth pondering how much of this lesson we could really use on ourselves. ?
—————————-
I've owned Presto now for four years. He has grown so much and I'm finally ready to start sharing his adventures. You can find all of his posts on my website (stacywestfall_com_)
What questions do you have for me about Presto?
#PressOnRegardless #Presto #Equithrive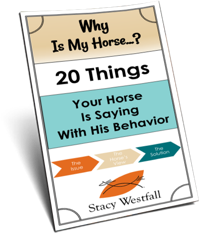 FREE PDF DOWNLOAD
WHY IS MY HORSE...?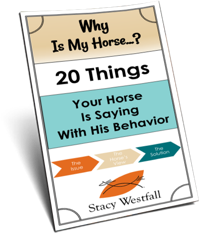 Free PDF Download "Why is my horse...20 things your horse is saying with his behavior"
PDF will be delivered to the email address you enter as will weekly tips from Stacy. Totally free. Unsubscribe anytime.