What happens to all those nurse mare foals? I wondered this myself and when I saw a photo posted on The Last Chance Corral Facebook page I asked if they would share their story.
The story starts sad – my daughter lost her first horse to placental abruption in her last few weeks of pregnancy.  I didn't know if she would ever ride again, or have another horse.  We had gone to LCC as our community service project with our 4H club, and really loved the work they do there.  After not finding a horse Maddie bonded with (as all things would be forever compared to her first horse), she decided she wanted a foal to raise as her own.  We went to LCC on a cold Monday night in February 2011 and "Pickle" (as we call her in the barn) was their last foal.  We sat in the hay and hung out with her for probably an hour, and Maddie said "look at her eyes – this is my horse."  She came home with us 2 days later.

My daughter loves music so she named the foal "That Sweet Sound" and had intended for her barn name to be "Musique."  But, whenever she would misbehave, Maddie would say "what's your dill, pickle?"  And, the name stuck.  So, Pickle it is!

Maddie has worked with her every day in some capacity, and as a result she has a

virtually spook-free, gentle (albeit at times contrary) little filly.  At about 16 mos old she took her in a halter class and place 3rd (out of about a dozen horses); since then, she's placed in Showmanship 2-3 times in fun shows and county fair; and a junior horse class (walk/trot) at the county fair.  With the vet's go-ahead, she put her under saddle at 2 1/2…the horse never even bucked.  She is stubborn and smart, though!

Maddie has done all the training herself (longeing, ground-driving, showmanship, under-saddle) – she has a trainer for guidance but no one else has ridden or handled the horse (other than turnout, and I have longed her).  Pickle is now 3 years old and Maddie has her cantering, not yet pretty – but she's responding to the cues and is on the correct lead about 99% of the time.  We expect great things from her; Maddie wanted her to be a reiner, but right now she moves like an English horse, so we'll see how she continues to evolve.

LCC does great things and these little foals that are "thrown away" have SO much potential…Pickle is proof of that.  We love her and are SO blessed to have her in our lives, and she has had a powerful impact on my daughter's life.

Michelle S.
The Last Chance Corral does amazing rescue work with horses, both foals and adults. There are many ways that you can help.
'Like' them on Facebook-Spread the word-it could save a life!
They accept volunteers to work at the barn
they have a list of supplies (including foal blankets and how to order them) on their website http://lastchancecorral.org
hay donation
sawdust donation
the website can accept cash donations
they will be at Equine Affaire in Columbus, Ohio in April if you want to stop and talk, donate….or adopt:)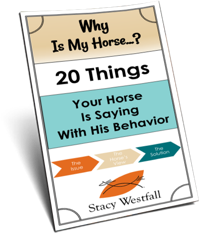 FREE PDF DOWNLOAD
WHY IS MY HORSE...?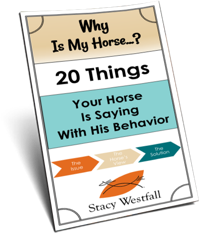 Free PDF Download "Why is my horse...20 things your horse is saying with his behavior"
PDF will be delivered to the email address you enter as will weekly tips from Stacy. Totally free. Unsubscribe anytime.