I attended the Western Dressage Judges seminar…and I don't intend to become a judge.
Why did I go?
I went because I had one question: What are the judges looking for in western dressage?
I had done some online research. I had shown at a few shows. But I wanted to know first hand what the judges were looking for.
It may seem a little extreme to some but I plan on showing a lot this year and I knew that a true understanding of what the judges were trained to look at would be extremely helpful when I was showing. PLUS I get to share what I learned with you! I call that a win-win-win.
In this video, I recap my three days at the seminar…with a three-minute timer running.
This is the second video in my YouTube series: The Trail to the World Show, where I am documenting my journey with Willow and Gabby. My goal is to show at the Western Dressage World show in October and learn a lot of thing along the way.
Thanks for joining me. Let's learn!
A written recap of what's in the video.
the importance of knowing the rules so you are not penalized
terms, words and phrasing
understanding the number system for movements
true gaits: walk, jog, lope
paces inside gait: free, working, lengthened, collected (free jog, working jog, etc)
understanding tempo
understanding impulsion
LEARN WHAT IS WRITTEN ON THE TESTS
movements are judged beginning, middle and end
comments are to help the rider improve
know more to do better judging
look up the rules for wherever you show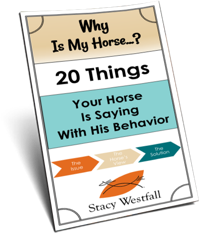 FREE PDF DOWNLOAD
WHY IS MY HORSE...?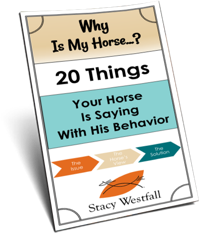 Free PDF Download "Why is my horse...20 things your horse is saying with his behavior"
PDF will be delivered to the email address you enter as will weekly tips from Stacy. Totally free. Unsubscribe anytime.