This video demonstrates the majority of the movements require in Western Dressage, Level 1, tests 1 through 4.
When I was getting started in Western dressage I often found the language on the tests to be slightly confusing because I did not have a background in dressage.
I made this video in the hope that it might help others who are getting started in western dressage and wonder what is expected.
I don't claim that these movements are examples of the perfect movement. For example, my mare steps forward during the halt. I chose to leave the movements, flaws and all, because it accurately represents that she is at this level and likely to make some of these mistakes during her test.
Movements demonstrated include:
Half turn on haunches or pivot left, proceed working walk
Half turn on haunches or pivot right, proceed working jog
A-enter working jog, X-halt salute, proceed working jog
Working walk, free walk, working walk
20 meter working lope
15 meter working lope
10 meter working lope
Transition working lope to working trot
20 meter working jog
15 meter working jog
10 meter working jog
Walk-halt-back-walk
Working jog, lengthened jog, working jog
Working lope, X-working jog, proceed working jog
Working lope, X-change of lead through jog, proceed working jog
Half turn on forehand right (haunches left) proceed working walk
Half turn on forehand left (haunches right) proceed working walk
Working jog, halt, back 3-5 steps, proceed working jog
Counter lope, one loop 5 meters off the track maintaining right lead
A-C serpentine three equal loops width of the arena, working jog
Working jog, S-I half circle left 10 meters, I-R half circle right 10 meters
Working lope, S-K lengthen stride of lope, K-F develop working lope
E- circle left 20 meters lengthened lope
B half circle right 15 meters, leg yield left, quarter line to H, H working lope right lead
E half circle left 15 meters, leg yield right, quarter line to M, M working lope left lead
In 2019 I plan on showing two of my horses in Western Dressage with the goal of showing at the Western Dressage World show in October.
Along the way, I am also training and showing in traditional dressage , reining and ranch riding with Willow and Gabby.
I'm going to be sharing my journey so anyone who is interested can learn along with me.
Weaver Leather Stacy Westfall ProTack Oiled Split Rein, 5/8-Inch x 8-Feet, Brown: https://amzn.to/2JbdIyn
Weaver Leather Stacy Westfall Stick and String: https://amzn.to/2VcOZ3G
Weaver Leather Stacy Westfall Rope Halter, Medium, Black with Blue Nose: https://amzn.to/2vIdgQl
Weaver Leather Pull-Up Fashion Chinks with Floral Yoke Set [https://amzn.to/2MONDbQ] Weaver Leather Stacy Westfall Activity Ball, Medium, Blue: [https://amzn.to/2JbslBI] Weaver Leather Trail Gear Pommel Bag: https://amzn.to/2VHvXlA
Jeans: Cowgirl Tuff- https://amzn.to/2VKeuoD
Cashel Quiet Ride Fly Mask with Ears and Long Nose – https://amzn.to/32EwqFK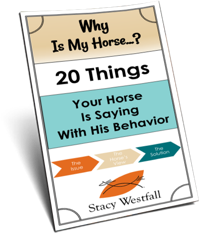 FREE PDF DOWNLOAD
WHY IS MY HORSE...?
No one taught you the skills you need to work through these things.
Riders often encounter self-doubt, fear, anxiety, frustration, and other challenging emotions at the barn. The emotions coursing through your body can add clarity, or can make your cues indistinguishable for your horse.
Learning these skills and begin communicating clearly with your horse.
Click here to learn more.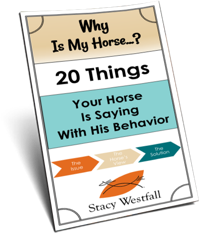 Free PDF Download "Why is my horse...20 things your horse is saying with his behavior"
PDF will be delivered to the email address you enter as will weekly tips from Stacy. Totally free. Unsubscribe anytime.