While I was in Germany last month I had the opportunity to visit, and ride, Roxy's son Roxter. I was excited about the opportunity but the emotions did catch me off guard.
As many of you know Roxy had four foals via embro transfer before she died; Chloe, Roxter, Mia and Jac. As Greg explains in this video he chose to keep the mares and sell the stallions.
Sometimes people struggle with the idea of selling a horse, myself included. I think it is human nature to think that we will always be the best home for the horse. In some situations that may be true but there are many, many times that others can provide as much, or sometimes even more, for the horse. I think that Roxters story illustrates that pretty well.
Roxter was sold at the NRHA Futurity sale and a trainer who saw his potential bought him. The trainer was from Germany and he eventually shipped Roxter to that country. Once there he was sold to Annette Geisendorf who started Roxters Facebook Fan page and sent him to Grischa Ludwig for training. Grischa was very successful with Roxter in the show pen and Annette posted more casual photos from around home. Roxter even bred a few mares and it was easy to see that he had a good life…but it wasn't the end of the story.
Someone else saw even more potential for Roxter, Ines Werner. Ines runs a charitable association named "Momo & Amy", a therapeutic riding organization that enables access to riding therapy for needy children and young people. Roxter is involved in several ways including spending time with the children and bringing awareness through the donation of ALL of his winnings directly to the charity. His life isn't spent in full time training, it is balanced between home, charity appearances, trail rides and show. It makes me happy to think that Roxy's foals are impacting the world for good both in and out of the show pen.
I have no doubt that I would have enjoyed training Roxter as much as I did Jac. Upon meeting him again in Germany (I knew him last as a yearling) it was easy to see how much he looked like his mom. When Ines offered me the chance to ride him I didn't immediately jump at it. It was enough to visit with him in his stall…at least that was what I thought. Once in the stall with him I changed my mind and said, if the offer still stood, I would love to ride him. I had to know if he felt as much like his mom as he looked.
I made a short video before I mounted up with the intention of recording more after I was done riding but that second part never happened. I wasn't overly emotional just being around Roxter in the stall as he reminded me of his half brother, Jac…but on his back it was a different story.
It is always strange to ride a horse that I haven't trained because they feel unfamiliar. This is the reason I had initially declined the offer to ride Roxter, I knew he wouldn't feel familiar…but I was wrong.
Before I go on I should confess that my favorite maneuver in a reining pattern is running fast circles. People usually think it would be the spin or the slide but running always makes me feel free. When I rode Roxy bareback and bridleless it made me feel like I was part of her, that I shared her freedom, and that I might just be Alex Ramsey running down the beach on The Black Stallion.
So as soon as I loped off on Roxter I started crying. He felt so much like Roxy. The faster I ran the more he felt like her. It was amazing and bitter sweet.
It also caught me off guard because I have ridden all three of the other foals and Roxter feels the most like Roxy to lope on. They all have pieces of her that I can feel but each in a different way.
Thankfully Ines didn't think I was crazy (or she hid it well, lol) and we had a great visit. I didn't finish the video though, I knew I would get choked up and cry again so I skipped it.
It was a great trip and I'm glad that it happened. Several people had to go out of their way to make it happen including Annette who told me we would be close to where Roxter was, Katrin who drove us there, Sylvia who gave us the tour and Gricha who gave us a first hand look at Roxters spins and slides…and especially Ines who hauled Roxter to Gricha's just so I could meet him. She has assured me that I am welcome to come back and ride him again any time. If I find the right mare I might just have to go one step above that and raise a foal by him!
If you want to see more about Roxter, check out his Facebook page and the Therapy Program "Momo & Amy".
Check out Stacy's full line of DVD's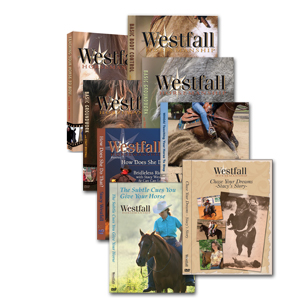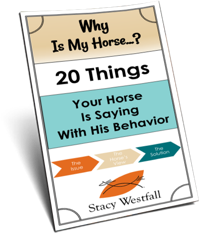 FREE PDF DOWNLOAD
WHY IS MY HORSE...?
No one taught you the skills you need to work through these things.
Riders often encounter self-doubt, fear, anxiety, frustration, and other challenging emotions at the barn. The emotions coursing through your body can add clarity, or can make your cues indistinguishable for your horse.
Learning these skills and begin communicating clearly with your horse.
Click here to learn more.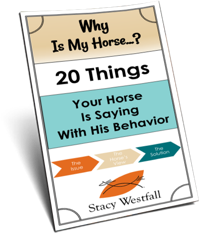 Free PDF Download "Why is my horse...20 things your horse is saying with his behavior"
PDF will be delivered to the email address you enter as will weekly tips from Stacy. Totally free. Unsubscribe anytime.