I think the nomadic idea was secretly planted in my head by my husband. It also helped that we met other people, one family in particular, that moved around with their family performing at rodeos and equine events.
Our life has slowly morphed into travel because we can serve more people by moving around both at clinics and expos. By the time our youngest son was seven he had traveled to 40 states…each time returning to Mount Gilead, Ohio. It just seemed logical to try living on the road. We also like the idea of spending more time together as a family. And we can always go back!
Now that we are in a full blown motor home we are ready to take this show on the road. Some of the goals our family has, outside of work are:
see all 48 states (this lead to a discussion of Alaska & Hawaii)
live 'off the grid' for a week…in RV terms this means staying in a remote location without electric, water or sewer hook up
trail ride in the mountains…park the motor home and be able to ride from the camping site up into the mountains
If you were going to live in a motor home for a year…what would you hope to accomplish? What questions about our travel plans would you like us to answer?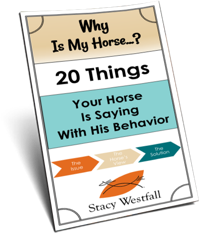 FREE PDF DOWNLOAD
WHY IS MY HORSE...?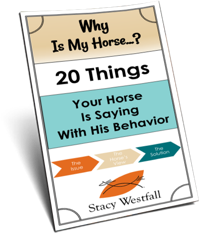 Free PDF Download "Why is my horse...20 things your horse is saying with his behavior"
PDF will be delivered to the email address you enter as will weekly tips from Stacy. Totally free. Unsubscribe anytime.