Vaquero is now back at Rood and Riddle (http://www.roodandriddle.com) and Monday morning he will be undergoing more testing. He has already be tested for the following:
Blood work clean-ruling out poisons, toxic plants, toxic bugs, bites, etc
Spinal tap clean-ruling out EPM (he was never treated for it as someone asked)
Tested for viruses-tests came back clean
The current though based on my first trip down is that the arthritis is causing a pinching of the spinal cord. This would make him a wobbler of sorts. It fits that the steroids, when they are used, reduce the swelling which reduces the symptoms. When I was down the first time his symptoms were much less severe and it was decided to start with rest for a month as he had done nothing but improve (and wasn't nearly this bad). The next step if he didn't get better, or if he got worse, was to perform a myelogram where they inject dye into his spinal column and then can see more clearly what is happening, if it is pinching, how much it is pinching and how much damage it has caused. (they do this test in people, anyone out there had one? http://www.asnr.org/patientinfo/procedures/myelography.html)
It is also the info they need to decide if he is a candidate for surgery. If they do surgery he will likely have a 'Seattle Slew' implant named after the famous race horse that also had the surgery.
Although some tests, like Lyme, are not back yet we will likely proceed with the myelogram to get a better picture of what is going on in the suspicious part of his neck. Please pray we get accurate results and that it is treatable.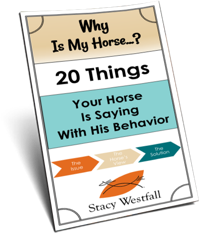 FREE PDF DOWNLOAD
WHY IS MY HORSE...?
No one taught you the skills you need to work through these things.
Riders often encounter self-doubt, fear, anxiety, frustration, and other challenging emotions at the barn. The emotions coursing through your body can add clarity, or can make your cues indistinguishable for your horse.
Learning these skills and begin communicating clearly with your horse.
Click here to learn more.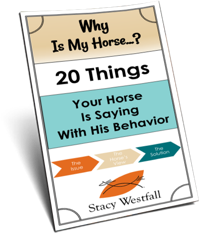 Free PDF Download "Why is my horse...20 things your horse is saying with his behavior"
PDF will be delivered to the email address you enter as will weekly tips from Stacy. Totally free. Unsubscribe anytime.