?
When I look back over two decades of training horses, there are patterns I can see. One of the patterns I see is riding time vs training time. While they are closely related, for me there is a difference.
?
❄️
I live in an area with four seasons. I have an indoor arena that helps but the seasons still impact my riding.
In general, all of my horses get more riding time in the summer. This is partly due to the weather being better, partly because I can trail ride, and partly because of the show season. It is largely because when it gets really cold here…I get really efficient with my rides: cold weather=shorter ride time.
?
But shorter time doesn't' have to be less effective. In fact, I've noticed that I often get MORE effective when my time gets shorter. I tend to get more clear and stay on track…with the cold air holding me accountable.
?
When I look back over the years I'm a bit surprised to notice that some of my most productive riding has been done in the 'off-season'. I generally end the summer with horse shows, long trail rides, and a bittersweet goodbye to the warm weather.
?
This is generally followed by what my friend Suzi calls 'PPL' or 'Post Project Letdown'. It's that feeling you get when something big ends and you have that empty void before the next project begins. I experience it as a bit of a lost feeling.
?
Once PPL passes, I've noticed that as I put on the coat, the gloves, and the ear warmers…I also pick up that old habit of riding with more focus. Gone are the two-hour wandering trail rides I love…but they are followed by the clarity of riding with a purpose, in a shorter amount of time.
?
As winter approaches and I find myself layering up and putting blankets on Presto, I need to remind myself that this, right now, is the time when we have a great opportunity to transform ourselves. If I stay diligent then in the spring when we shed these layers of coats and blankets…underneath will be the results of our 'off-season' work.
❤️
I've owned Presto now for four years. He has grown so much and I'm finally ready to start sharing his adventures. You can find all of his posts here on my website.
What questions do you have for me about Presto?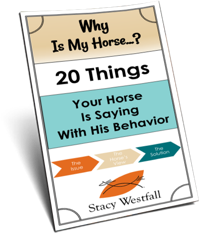 FREE PDF DOWNLOAD
WHY IS MY HORSE...?
No one taught you the skills you need to work through these things.
Riders often encounter self-doubt, fear, anxiety, frustration, and other challenging emotions at the barn. The emotions coursing through your body can add clarity, or can make your cues indistinguishable for your horse.
Learning these skills and begin communicating clearly with your horse.
Click here to learn more.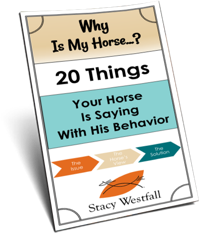 Free PDF Download "Why is my horse...20 things your horse is saying with his behavior"
PDF will be delivered to the email address you enter as will weekly tips from Stacy. Totally free. Unsubscribe anytime.