In this video I share with you an exercise that I use to increase my horses strength, balance and understanding of aids.
I call it 'circles inside of circles' and it involves a lot of, you guessed it, circles.
In the video I show how I set up cones as points to ride to as well as how I set up 'gates' or sets of cones to ride through. Being specific with my cues and exactly where I want to be makes me more clear. When the rider is more clear the horse is able to become more accurate.
The smaller 10 meter circles are a challenge for Gabby right now. She is four and lacks the strength and training to do many of them. Willow is eight and is much stronger. You can see in the video how easily Willow can stay balanced when loping the 10 meter circle.
As I prepare for the Western Dressage World show in a little over a month, I will begin to add some more focused riding times to my routines. I will still trail ride and have easy days but some days will be more precise.
I find exercises like this one to be beneficial in a different way than riding the full western dressage test. Often when riding a test there are many quick transitions. While this is good for testing it is more of a challenge than establishing and maintaining something like a circle.
Once the horses improve and can easily do these circles, then I know they will do well with the test movements.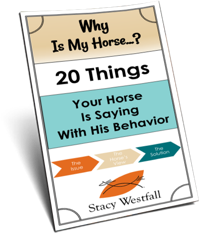 FREE PDF DOWNLOAD
WHY IS MY HORSE...?
No one taught you the skills you need to work through these things.
Riders often encounter self-doubt, fear, anxiety, frustration, and other challenging emotions at the barn. The emotions coursing through your body can add clarity, or can make your cues indistinguishable for your horse.
Learning these skills and begin communicating clearly with your horse.
Click here to learn more.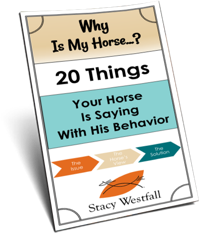 Free PDF Download "Why is my horse...20 things your horse is saying with his behavior"
PDF will be delivered to the email address you enter as will weekly tips from Stacy. Totally free. Unsubscribe anytime.