Top Ten Ways to Get Rid of Your Farrier
Have your horse shod once a year, then complain to everyone you know 'the shoes just fell off!'
Do not handle your horses feet at all. Especially the young ones.
Make sure your horses are loose in the pasture when the farrier arrives. The larger the pasture, the better.
Read horse magazines so that you can instruct your farrier on the latest shoeing techniques.
Fill the shoeing area with as many obstructions as possible. Dogs and children count extra.
Be sure and feed the other horses while the farrier is working.
Lead the horses through mud before bringing them to be trimmed or shod.
Don't clean your stalls and don't use fly spray.
Complain about the bill shortly after pointing out and discussing the huge price of your new truck, daughter's horse, boat, etc.
Always wait until the last minute to schedule your appointments, insist that the farrier come right away. Then, avoid paying the bill as long as possible.
How many of these are you guilty of? Have any you could add?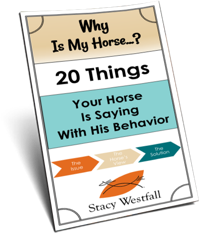 FREE PDF DOWNLOAD
WHY IS MY HORSE...?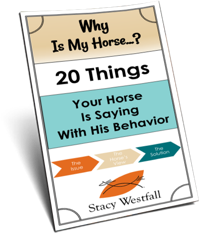 Free PDF Download "Why is my horse...20 things your horse is saying with his behavior"
PDF will be delivered to the email address you enter as will weekly tips from Stacy. Totally free. Unsubscribe anytime.