Go sit in the barn and tell your horse all your dreams, color with crayons, write a silly story, make a snowman (I prefer snow horses) sit on the floor for no good reason.
It is strange, and interesting, how simply doing something slightly out of ordinary makes you think slightly different thoughts.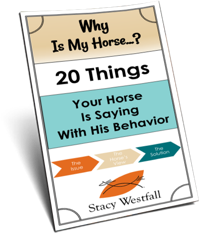 FREE PDF DOWNLOAD
WHY IS MY HORSE...?
Free PDF Download "Where is my horse...?"
20 things your horse is saying with his behavior.