It seems like this was so long ago. This little mare, Can Can Lena, Hailey to those who know her, is the horse that started it all. Of coarse all the horses that led up to her played their part so maybe it is more that she was a turning point rather than a starting point.
Have you ever heard the theory of a tipping point?
Tipping point (sociology), is the event of a previously rare phenomenon becoming rapidly and dramatically more common.
For me Hailey was a tipping point. Everything I had learn, the brief moments when I though I had connected with horses, all came together with this one horse.
I can't explain why it was her but I can offer you these two thoughts. All of the work before her played a part in reaching the tipping point and all other horses after her have been, in a way, easier.
Where are you focusing your time and energy? Have you experienced reaching a tipping point in your life?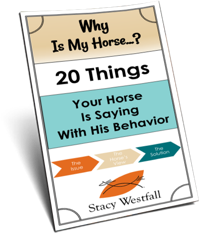 FREE PDF DOWNLOAD
WHY IS MY HORSE...?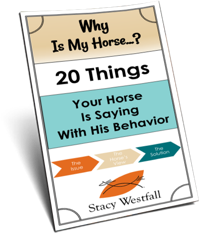 Free PDF Download "Why is my horse...20 things your horse is saying with his behavior"
PDF will be delivered to the email address you enter as will weekly tips from Stacy. Totally free. Unsubscribe anytime.