In this video I discuss transitions of speed, gait…and the most difficult transition I believe we do with horses. Teaching horses to accept contact, loose rein, and contact again is difficult. Practicing transitions inside of gaits (jog to extended jog) is just as important as transitions between the gaits (trot-canter).
I knew my weekend plan was ambitious…show two different horses, in two different events, at two different shows in the same weekend. What I didn't count on were the rest of the 'challenges' life was going to throw at me.
The weekend stretched my comfort zone…almost to a breaking point. While this was uncomfortable, I know that it is preparing me for bigger things.
In 2019 I plan on showing two of my horses in Western Dressage with the goal of showing at the Western Dressage World show in October.
Along the way, I am also training and showing in traditional dressage , reining and ranch riding with Willow and Gabby.
I'm going to be sharing my journey so anyone who is interested can learn along with me.
Some products that have been featured in this video series are:
Weaver Leather Pull-Up Fashion Chinks with Floral Yoke Set https://amzn.to/2MONDbQ
Weaver Leather Stacy Westfall ProTack Oiled Split Rein, 5/8-Inch x 8-Feet, Brown: https://amzn.to/2JbdIyn
Weaver Leather Stacy Westfall Stick and String: https://amzn.to/2VcOZ3G
Weaver Leather Stacy Westfall Rope Halter, Medium, Black with Blue Nose: https://amzn.to/2vIdgQl
Weaver Leather Stacy Westfall Activity Ball, Medium, Blue: https://amzn.to/2JbslBI
Weaver Leather Trail Gear Pommel Bag: https://amzn.to/2VHvXlA
Jeans: Cowgirl Tuff- https://amzn.to/2VKeuoD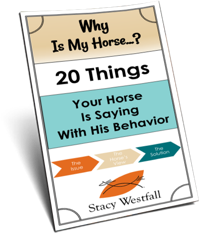 FREE PDF DOWNLOAD
WHY IS MY HORSE...?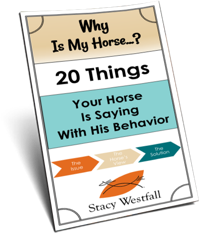 Free PDF Download "Why is my horse...20 things your horse is saying with his behavior"
PDF will be delivered to the email address you enter as will weekly tips from Stacy. Totally free. Unsubscribe anytime.