EVERYONE WANTS TO KNOW; DOES JAC REMIND ME OF ROXY. LISTEN AS I EXPLAIN HOW HE DOES!
Jac has less than three hours of training in this video and, yet, I can see one key character trait that Roxy had already showing up in Jac. Roxy had around 800 hours of training before the bridle came off the first time….so at three hours I still have a long way to go. And yet look at how far Jac has come!
In this episode Jac is a completely different horse that he was at the beginning of the week. I talk over and over about how when handling a horse on the ground he should 'look like a horse I would want to ride.' Translation: if they look bad from the ground, don't climb on. Jac is starting to look pretty solid.
I also talk about introducing voice cues, balancing out sticky spots and forward horses vs tight horses….and Roxy.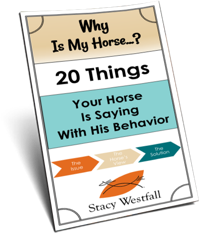 FREE PDF DOWNLOAD
WHY IS MY HORSE...?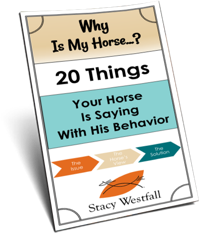 Free PDF Download "Why is my horse...20 things your horse is saying with his behavior"
PDF will be delivered to the email address you enter as will weekly tips from Stacy. Totally free. Unsubscribe anytime.